An "Anti-Establishment" Trump Should Pardon Edward Snowden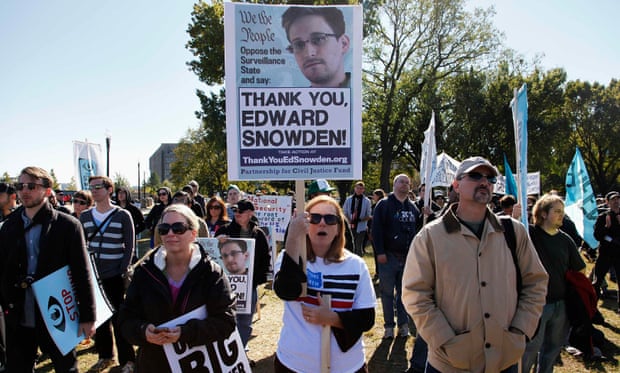 During his first days as president, Barack Obama pledged to protect government whistleblowers. In fact, Change.org even highlighted this stance saying, "Often the best source of information about waste, fraud, and abuse in government is an existing government employee committed to public integrity and willing to speak out. Such acts of courage and patriotism, which can sometimes save lives and often save taxpayer dollars, should be encouraged rather than stifled."
Oddly, or rather conveniently enough, this section of the webpage disappeared just days after the first round of Edward Snowden leaks.
In September Edward Snowden has set out the case for Barack Obama granting him a pardon before the US president leaves office in January, arguing that the disclosure of the scale of surveillance by US and British intelligence agencies was not only morally right but had left citizens better off.
Which Obama had denied straight forward at the time.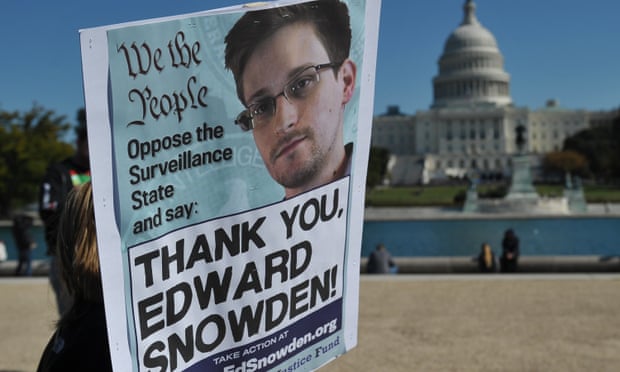 Today He's been asked again;
PRESIDENT OBAMA INDICATED on Friday that he won't pardon NSA whistleblower Edward Snowden
In an interview with Obama published on Friday, German newspaper Der Spiegel asked: "Are you going to pardon Edward Snowden?" Obama replied: "I can't pardon somebody who hasn't gone before a court and presented themselves, so that's not something that I would comment on at this point."
But P.S. Ruckman, editor of the Pardon Power blog said Obama is wrong to suggest he couldn't pardon Snowden if he wanted to. Ruckman noted that Obama has previously only granted pardons and commutations to people who have already been convicted. "I just think what he may have better said is: 'I prefer that he present himself to a court and then we'll talk turkey.' But technically in terms of the Constitution, there are no restrictions at all."
The operative Supreme Court ruling, from 1886, states that "The power of pardon conferred by the Constitution upon the President is unlimited except in cases of impeachment. It extends to every offence known to the law, and may be exercised at any time after its commission, either before legal proceedings are taken or during their pendency, or after conviction and judgment. The power is not subject to legislative control."
Obama said that although Snowden "raised some legitimate concerns," he "did not follow the procedures and practices of our intelligence community.
Now the table is turning towards Donald Trump
For many Trump supporters — as well as the rest of the country — the surveillance state is one of the largest abominations to individual liberty seen in our lifetime, and that includes the passage of the Patriot Act and all the regulatory agencies that were conceived in the wake of 9/11. Without a firm anti-establishment stance against "big brother.," draining the swamp is not only unlikely, it is simply impossible.
There is, of course, also the issue of Julian Assange. since Wikileaks committed itself to a campaign exposing Hillary Clinton in the final weeks of the election, the Republicans now view Assange as a hero.
Trump has also praised Assange, which seems appropriate since it is clear he has got an edge in demoralizing Hillary Camp. But truly speaking it is entirely unreasonable to attribute Trump's election night victory to the dozens of "Podesta Email" leaks that were released over the last several weeks.
Now that Trump has publicly called Assange a hero for essentially doing the same thing Snowden did — it is possible that President Trump would consider pardoning Edward Snowden.
Again, at this point no one knows how this next administration will function. . pardoning Edward Snowden would be the ultimate stand against the establishment.
If President Trump holds true to his promise of restoring peaceful relations with Russia, where Edward Snowden has taken asylum for the past three and a half years, Snowden could very well become a bargaining chip. Of course, this is all speculation at the moment, but as non-interventionists seeking peace, we can only hope that improved relations with Russia do not come at the cost of the most heroic whistleblower of our time.
Trump's legacy as president is a blank slate, it could go either way. If he wants to keep his current base of support and prove his skeptics wrong, he would be wise to pardon Edward Snowden, and dish out the first real blow to the establishment during his first days in office.
People are optimistic in this regard and expecting a positive step from Trump.
One Person commented "I would state that the best reason to pardon Edward Snowden is that he revealed secrets during a secretive United States power regime.
So far, what I have seen is that the revelations he has brought out are mostly about ways the government security apparatus has been doing to monitor and control Americans. This is exactly the opposite of the idea of the founding of this great nation. Our government has gotten off its principles, and needs to find its way back.
The pardoning of Edward Snowden, followed by the (hopeful) repeal of the (un-)Patriot Act would go a long way in that direction.
Snowden said any evaluation of the consequences of his leak of tens of thousands of National Security Agency and GCHQ documents in 2013 would show clearly that people had benefited.
"Yes, there are laws on the books that say one thing, but that is perhaps why the pardon power exists – for the exceptions, for the things that may seem unlawful in letters on a page but when we look at them morally, when we look at them ethically, when we look at the results, it seems these were necessary things, these were vital things," he said.
"I think when people look at the calculations of benefit, it is clear that in the wake of 2013 the laws of our nation changed. The [US] Congress, the courts and the president all changed their policies as a result of these disclosures. At the same time there has never been any public evidence that any individual came to harm as a result."
The campaign has received a further lift from Oliver Stone's film, Snowden,  released in the US.  Over the weekend the director said he hoped the film would help shift opinion behind the whistleblower, and added his voice to the plea for a pardon.
Snowden has 2.3 million followers on Twitter giving him a huge platform to express his views
As far Snowden as a person is concerned, In Hong Kong in June 2013, when he had passed his documents to journalists, Snowden displayed an almost unnatural calm, as if resigned to his fate. On Monday he said that at that time he expected a "dark end" in which he was either killed or jailed in the US.
More than three years on, he appears cheerful and relaxed. He has avoided the fate of fellow whistleblower Chelsea Manning, who is in solitary confinement in the US. Snowden is free to communicate with supporters and chats online late into the night.
His 2.3 million followers on Twitter give him a huge platform to express his views. He works on tools to try to help journalists. He is not restricted to Moscow and has travelled around Russia, and his family in the US have been to visit him.
 Donald Trump must hear the pleas and grant him pardon and justice.
sources:
Source: An "Anti-Establishment" Trump Would Pardon Edward Snowden
https://www.theguardian.com/us-news/2016/sep/13/edward-snowden-why-barack-obama-should-grant-me-a-pardon
https://theintercept.com/2016/11/18/obama-refuses-to-pardon-edward-snowden-trumps-new-cia-pick-wants-him-dead/
https://1earthunite.wordpress.com/page/2/
https://arresteddevelopments.wordpress.com
Along with thanks and compliments to the sources for the shared data
Creative Commons Copyright © Arrested Developments 2015